Settling Down
March 4-7, 2005 (Cheraw)
You probably thought you had heard the last of us, well after this post you have. This will be the final report on this adventure. As we return to the hustle and bustle of normalcy I am certain our mundane schedule will be of little interest to those of you who have followed the excitement of the adoption process. I am sure there will be others whom you know who will take on this undertaking and the journey will begin new again for some other blessed family and one more child will have been chosen by God to start life anew under the umbrella of God centered love. We will be equally excited to follow others who experience this life altering trip.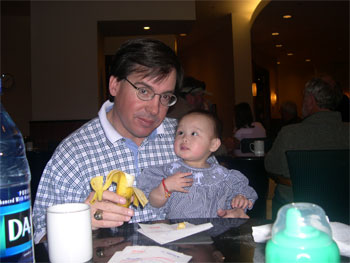 The last few days have been a period of adjustment, both physically and emotionally, for all of us. We have been trying to get our "day clocks" back in order and for the most part have faired well with jet-lag and the travel fatigue; even Kirby now is sleeping through the night again like a champ. The boys are still enjoying their little sister and Bradford is taking to her little by little, he even seems to be talking himself into accepting her as he frequently walks up to her and says "I like Kirby". We know in time they will be very tight and hopefully best of friends. She doesn't like the dog but is putting up with him more and more. She is beginning to explore around the house and playing with her new toys and such. The change and adjustment is really great to watch and so far there has been no trauma, injuries, or catastrophic events to note so we are thanking God with each new day for a placid breaking in period.
I have included in this post all sorts of pictures with friends and family from Thursday of last week through yesterday (where we celebrated Bradford's Birthday), and as you can see we are really doing well and just enjoying being home so much. There truly is no place like home. Before I finish I must say on behalf of Temple, our boys and Kirby, and myself, we very much appreciate what you all mean to us. We mean all that we say from the bottom of our hearts when we express to you our most sincere thank you for being with us all this time.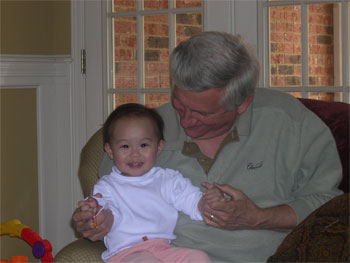 I had a great uncle, Joe Dyson, who was a missionary in China most of his life and is buried in Taiwan. I want to close by quoting him from a letter he wrote in November of 1960 to all of those that followed him as he witnessed and loved the Chinese people ... ,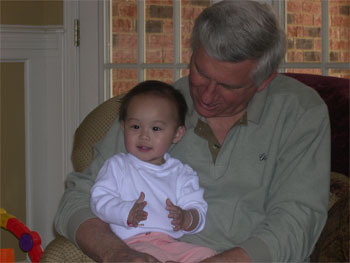 "Congratulations on your being part of a great international movement (the Christian missionary movement) which, for all these centuries, has been slugging away, rather consistently, at breaking down barriers, bridging gaps, and doing some first-rate construction according to New Testament blue-prints."
I hope we have carried on this spirit, congratulations on your being a real part of it,
In Christ,?
The Dyson Family
Ps ... Should we be able to help you in anyway in the future by answering questions, encouraging someone you know in the adoption process, or putting you in touch with our adoption agency, Tony Gloster who did our web-site, or anything else please let us know; we would love to help. - Joel
Read more of the Travel Log.
View the Video Clips.