A Temple of a Different sort
8:13 AM February 27, 2005 (Cheraw)
9:13 PM February 27, 2005 (Beijing)
February 27, 2005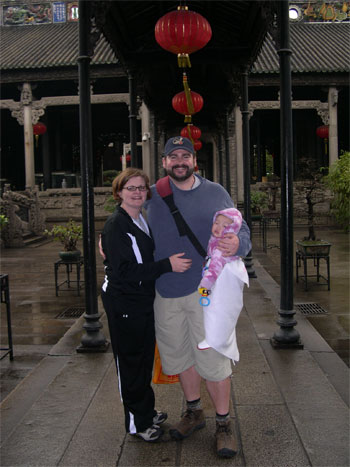 Church day today and we were off to the Temple, the Chen Clan Family Temple. As you probably guessed worship was not on the agenda today curiously but we will make time to worship together here in our hotel room as a very small but loving congregation of three. Instead we went to a beautiful landmark here that was a family temple for the Chen Clan which was a wealthy and powerful family in Guangzhou that flexed its influence by building its own ornate place for ancestral worship. The Temple, like most places of worship here, is now a museum and was stunning. The beauty of the carvings and gardens are fascinating and the artifacts and history were a wonderful education; a window into a culture that is so foreign to us. It was a great trip and was well worth the time spent this morning. Following the Chen Temple we made a stop at a genuine Chinese tea house to learn about the tea culture that dominates the Chinese way of life. Once again it was a really nice stop and we enjoyed it very much.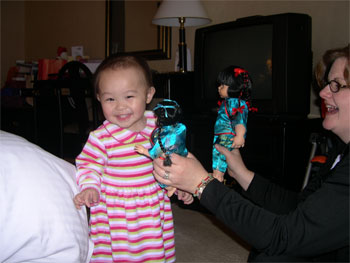 Back to the hotel for lunch and naps, this afternoon was again pretty lazy. Tomorrow things get busy again. We have been advised that we are in the first group to visit the Consulate for interviews and oaths; once this happens tomorrow morning Kirby will be recognized by the U.S. Government as ours and we will be one step closer to closure. We will give you the whole play by play (with pictures) tomorrow following this visit.
There isn't much else to report at this point. I'm trying to think of things that have happened the past few days that maybe I have skipped and not relayed to you. Here are some thoughts in no particular order. Kirby really enjoys the bath now, plays and splashes and doesn't cry at all. We took Kirby to a department store and were the only ones in the entire children's section, she was waited on hand and foot by four or five sales associates; it was a beautiful thing seeing her treated so special, I cannot describe for you the joy we had watching this. She accepts kisses but is sparing on giving them, I guess that's a good thing. We had a band play tonight in our restaurant at the hotel and sang to her; as she was mesmerized by the music it is likely that she has had little music exposure and I suppose no one ever sung to her like that before, the band of three was from the Philippines and sang the most beautiful songs. For all you engineers and math whizzes, the man collecting the payment at the Medical Exam Office was counting using an abacus (if you don't know what that is then look it up or ask your teacher), it was the neatest thing because I have never seen someone actually using one of those; I even had a picture but it got deleted on accident. We saw woman walking down the street with a big monkey on a leash and cats and dogs are rare (hmm, food?). Kirby is still doing wonderfully and is such a jewel whether on the bus, in the shops, at dinner, or in the room. I am sure she will fall into place as typical fifteen month year old with the challenges they bring but for now we are enjoying her nature and demeanor.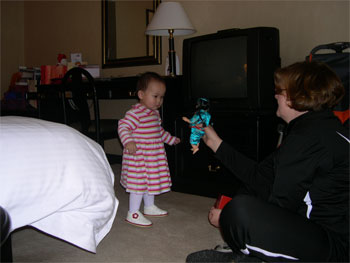 I cannot recall anything additional at this point. We hope for a busy and exciting day tomorrow with much news to report to you. Once again your emails are such a reminder for us of the wonderful place we call home and the truly special people that touch our lives on a daily basis. Although unintentional, it has been one of the highlights of our trip to post these entries and read your email messages to us. We look forward every day to signing on the web and being touched by your sincere words of love and encouragement. A simple thank you doesn't relay the appreciation we have for you and fulfillment we have in knowing you are the life we have waiting for us, and now Kirby, back at home.
Have a wonderful Sunday and hug the ones you love.
Again from China, Thanks.
Joel, Temple, and Kirby
Read more of the Travel Log.
View the Video Clips.