Gotcha Day!
8:53 AM February 21, 2005 (Cheraw)
9:53 PM February 21, 2005 (Beijing)
Sunday February 21, 2005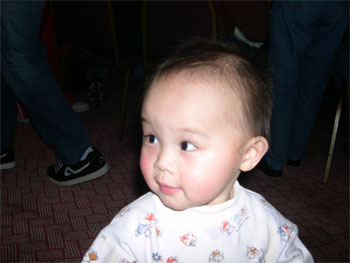 As I sit here typing this page, Temple is giving a bottle to our daughter; how cool is that! We hope this time, right now, is glorifying our awesome God whom orchestrated this moment from start to finish. I cannot begin to tell you what I feel at this point, but as I think about the road we have traveled and all that we have taken from each of you that read this post tonight, I can only say that we are grateful for all of you, thank you; without our loving friends and family this event would not be the same. I'm tearing up now so I'll stop the mushy stuff and get to the details.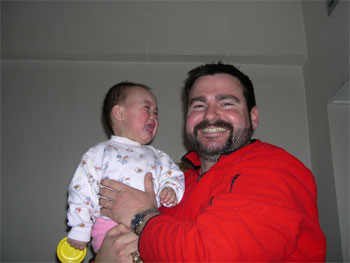 We woke early this morning to get our luggage out by 6:20 and down to breakfast. We caught a morning flight from Beijing to Nanchang and arrived here about 1pm. A short bus ride brought us to the hotel and we were charged with getting our documents in order and then back down stairs for the ride to the China Center for Adoption Affairs. We arrived at the adoption affairs office for our 3:45 appointment and right on schedule they began to advise us the order in which the babies were to come out. After 15 months of anticipation we saw, for the first time, our Kirby. It was no less exciting or joyful than any other child entering our life. Our eyes met and we new the spirit was bringing our lives together.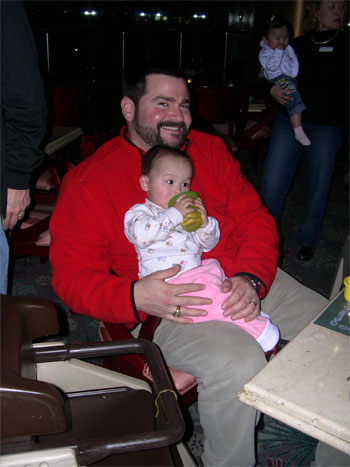 Kirby did really well at first, then she saw me; I think the beard was a little overwhelming. But over time she warmed up to me and has already attached herself to mom. We found that she walks like a champ and really seems to like to get around. At dinner she ate great and started, already, to show her personality. She laughed and smiled and just got very comfortable with us. Dinner was a great joy. After dinner we were back to the room to unwind and try a bath, for the very first time. She did not mind the bath until we decided to take pictures, then she got upset and was ready to get out, crying of course.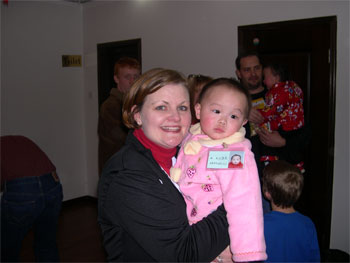 Now the trauma is over and life begins new for all of us. It won't be long now and she will hopefully enter your lives like she came into ours, lonely and sweet with nothing to her name but a beautiful smile. Temple has layed her down now for the night and things are very quite, peaceful even. I know I am making this message short, but it has been quite a long day and we aren't sure what the night will be like. Temple will post tomorrow and I am sure she will share more on our wonderful experience from today.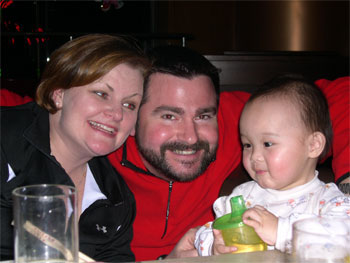 Please remember how much we truly appreciate all of you. Thank you for all your prayer, encouragement, and for endless supply of help. A special thanks to Temple's Mom and Dad who are staying with our boys and to Tony Gloster who built this website and is posting these messages and pictures.
Good night from China,
Joel, Temple, and Kirby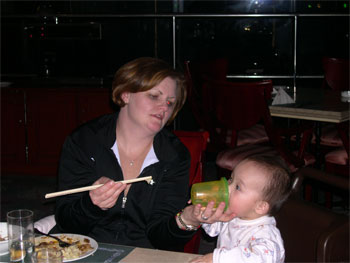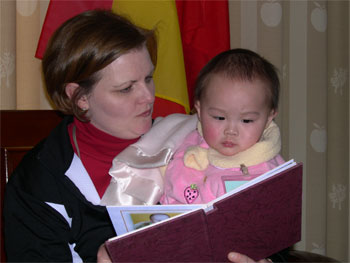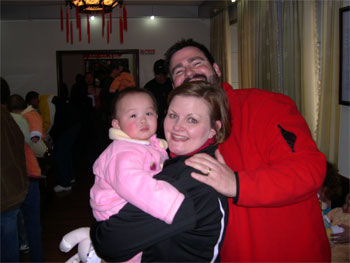 Read more of the Travel Log.
View the Video Clips.