Worship and The Wall
7:24 AM February 20, 2005 (Cheraw)
8:24 PM February 20, 2005 (Beijing)
Sunday February 20, 2005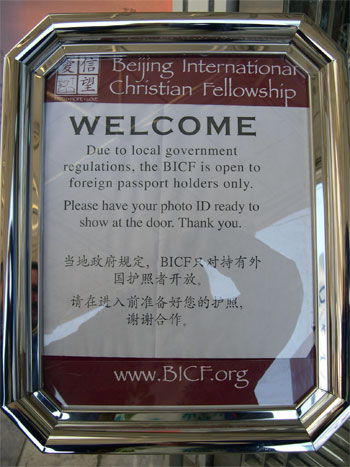 Not to many things could top today's adventure; I guess getting a new child can so tomorrow will pretty much top today, but this day was really quite awe inspiring and would be hard to top normally. We began this Lord's Day with the usual breakfast fare and then off to church. I want you to know it was a bitter sweet feeling to worship our awesome God in this country where atheism is the state religion; I say this because although it was a wonderful moving event it was extremely sad to know that worship here to Christ is limited to only those holding foreign passports. I was grieving inside for even our guides were unable to go with us inside the church, this was the first and only time we have gone anywhere that our guides were not allowed to go; although we knew this existed it was sad to actually see worshiping Christ as off limits to anyone. It is one thing for those who choose to not bask in the glory of our savior, but it is quite another to see the sign at the door dutifully restricting entry to the house of the Lord. How truly blessed we are to have both the choice and the opportunity; please don't take for granted the service you head out for today and pray that God would literally "open doors" for the people in China.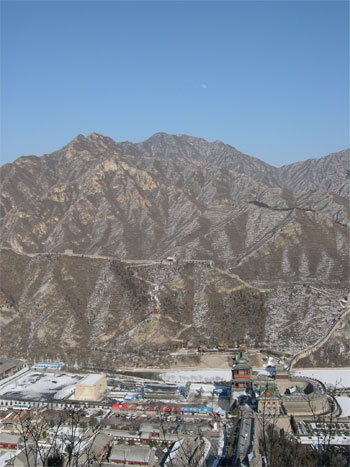 Following the service we were off to The Great Wall. We drove north to the mountains, stopping at the jade factory and lunch. It was a little bit of a trip but not bad; lots of pretty scenery and very interesting sites. We arrived to find that the Great Wall is everything we imagined it would be, "Great". Not disappointed, we just kind of took it all in for a while. I am sure some of you reading this have been here before and know the feeling; it really is one of those things that can't be described in this short note. The magnitude and size combined with the difficult terrain and incredible detail, Wow! The saying here is "if you didn't see the Great Wall, you didn't see China"; This culture is truly fascinating and is full of power and intrigue, but I can only think how empty it must be for many here living in such extreme poverty yet in the shadow of such rich history.
Tonight we ate the famous "Peking Duck". Roast duck shavings rolled into a very thin rice pancake coated with a plum sauce; quite good along with the twenty or so other items they brought to our table. We really have enjoyed the food and look forward to all the meals. Some of the items we are not sure what they are. We figure it is best to eat what you like, don't eat what you don't like, and don't ask what anything is! I feel quite certain that we are not going to be fed anything questionable unless we ask for it, so for now I don't think we have eaten rat, cat, bat, etc., if we did ... well then it tasted like chicken!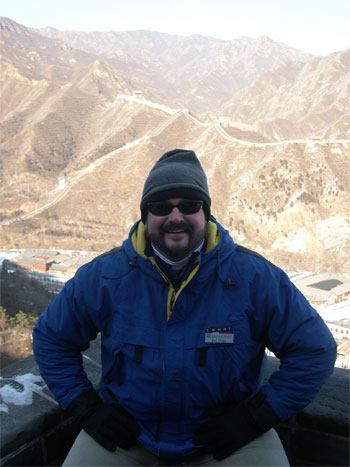 We are back to the hotel now to pack and rest. We leave out tomorrow morning for our three hour flight to Nanchang in the Jiangxi Province. And tomorrow will be a very big day as we are scheduled to get our precious new addition at around 4pm (around 3am Monday in Cheraw). Please know that we have received all your emails and we are so busy we cannot reply to them all. Keep them coming as we love reading them but please don't get discouraged if you don't get an email back. And please pray that God will be glorified tomorrow as we bring a new member of "our family" into our lives for the first time; one that will soon be brought to a place where family and friends spend valuable time reading about someone's trip to China, a place where family is more than blood relationships and the tie that binds is never broken, and to a place where the doors will be open to her to praise the name of Jesus Christ.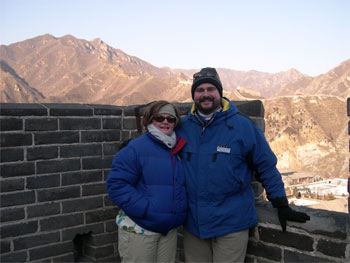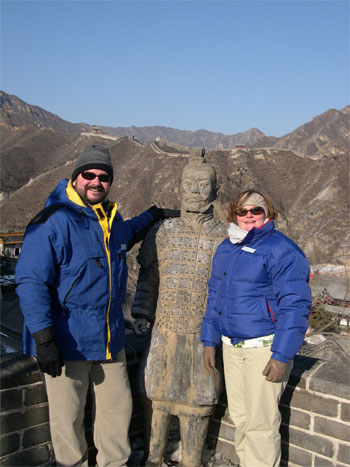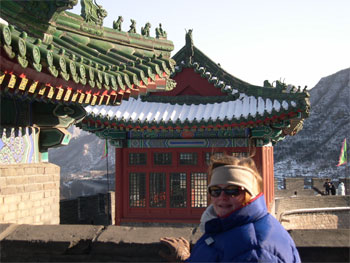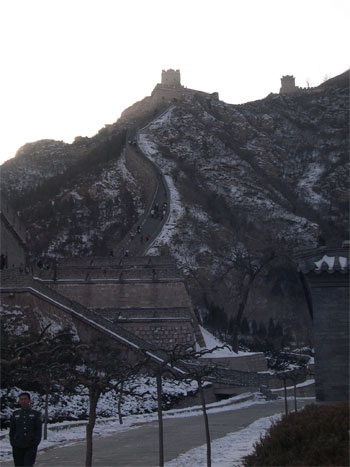 Love,
Joel and Temple
Read more of the Travel Log.
View the Video Clips.