Packing Up
10:42 AM March 1, 2005 (Cheraw)
11:42 PM March 1, 2005 (Beijing)
March 1, 2005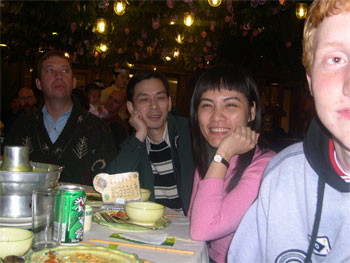 Today was another great day with absolutely miserable weather; cold, rainy, windy, just all in all miserable. But we managed to get out and look around busy Guangzhou for a few hours and pick up a few mementos from our visit here. We took group pictures this afternoon; there is one picture that has all the families that received their babies from the Shanggao orphanage, we are in that one because Kirby came from this orphanage in Shanggao in the Jiangxi Province. There were six families adopting with us from this orphanage. We took some other pictures with friends we have met and traveled with; we had a wonderful travel group and could not have imagined this trip without any one of them, they were so much fun and we so appreciate the company we kept with them. It is something like your church family in that you don't really know each other that well at first but the barriers are immediately broken because the tie that binds is so much greater than any obstacle the world can erect; how beautiful is the fellowship in Christ and the body of believers. It would be unforgivable for me not to mention our guides; a very great thank you to Cheryl in Beijing, Sweet Sally in Nanchang, and a super special thank you to Amy who has been with us the entire time. These people are so special and deserve so much more than I could possible say in this post. We also enjoyed being with Lineker, albeit only from time to time in Beijing and Guangzhou, but I will tell you Amy will always hold a place in our hearts. For those of you reading this post that are looking forward to your forthcoming trip to China with America World I can say with the greatest confidence that should any of these fine people be your guides you will be taken care of in the most professional and loving way.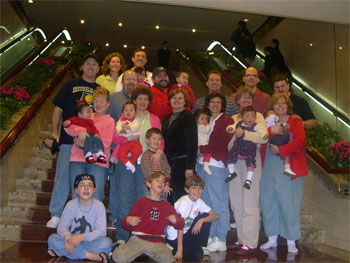 After pictures this afternoon we received our babies passports back from the U.S. Consulate complete with new visas for entry into the United States along with a very official package of information sealed up tight only to be opened by Immigration at our port of entry; this package is somewhat "sacred" because without it Kirby would not be allowed into the country and we would have to return to China (get the picture, "sacred"). So it will hold a special place in the carry on, I might even give it my seat. So when we get to Los Angeles and are processed by Immigration we will let out a big sigh of relief and rejoice again that one more hurdle will be conquered. Hopefully following the most likely lengthy process of passing through customs and immigration I will be able to send Tony a mid-travel post and let you know how the travel is going, etc. complete with pictures. Tonight we all went to eat dinner at a wonderful Thai food place called The Banana Leaf and like all the others meals we have had it was fantastic; nothing off the charts exotic, just very tasty and nice. Kirby ate well and after a bath she is down for the night; thank goodness because she was unpacking our luggage as fast as we were packing them.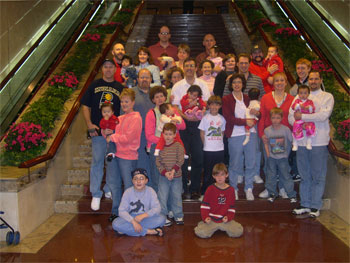 So after much anticipation we are packing up and preparing for the very long trip home. We will have one more night in China, all day tomorrow to relax, shop, stroll through the park (If the weather cooperates) and then tomorrow night we catch a late flight out home via Los Angeles, Atlanta, and then Florence. We have no idea if our path will ever lead us back to this place so we are going to do our best tomorrow to reflect on everything that has happened thus far so that we will be able to savor the memory for as long as our fleeting minds will allow. I must say it has been one the most wonderful experiences and my only regret is that all of you were not here to experience it with us. I wish everyone could go where we have gone, from start to finish, down this road because the pot of gold at the end of this rainbow cannot be put into words; the smiles, the laughs, the cries, the hugs... it is worth every effort we put forward. It is similar to following our great God in heaven, although it is not without trial it is worth every tear. I can say without hesitation it has been worth every tear.
One last time, goodnight from China.
Temple, Joel, and Kirby
Read more of the Travel Log.
View the Video Clips.