The Journey Begins ..
6:56 AM February 18, 2005 (Cheraw)
7:56 PM February 18, 2005 (Beijing)
Thursday, February 17 - Friday, February 18, 2005
Today is the day we began our journey to China. Our first flight of the day left Florence at 6AM. Instead of sleeping the night before we decided to try and throw our clocks off by staying up all night. I did not make it! Around 1:00 I took a little "power nap" for about an hour. At 3:00 we were ready to go; the bags were packed and closed, the car was loaded and we were on our way.
We drove to Florence for a little breakfast at the IHOP then on to the airport. When we checked in and began the first of many waits for planes, we were surprised to see Mike Rast walking in the terminal. He and Henry Taylor had made an early morning trip to see us off. It was a wonderful surprise and actually helped us relax a little.
The flight from Florence to Atlanta was uneventful, but we did land a little early and that was a good thing since our connection was less than an hour. After a short train ride to our next terminal we were waiting again to board a plane. The flight from Atlanta to San Francisco was 5+ hours and a little bumpy; we ran into 150 MPH head winds that slowed us down and bounced us around. But all in all it was a nice flight and we did manage to sleep a little.
<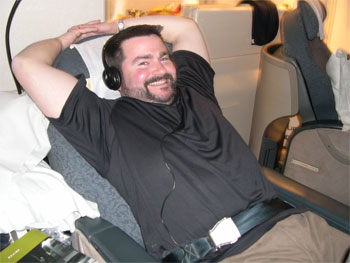 Due to the winds we were a little delayed getting into San Francisco, but we had plenty of time to get checked in and grab a bite to eat. This is where our day becomes interesting. Once we entered the gate for our Beijing flight, it seemed as if we had already left the country! Out of 400 passengers, I would guess 1/3 were American and the rest were all Chinese. Time to get ready for culture change! We boarded our flight and got settled in, then a crew member comes to us and says, "Mr. & Mrs. Dyson, we have better seats for you." We were confused, but did as she asked and we were led to our new FIRST CLASS seats. We have no idea how this happened, or why - but all we can say is WOW! If you have never flown first class and don't want to know how the other half lives, do not read any further, because I am going to tell you now!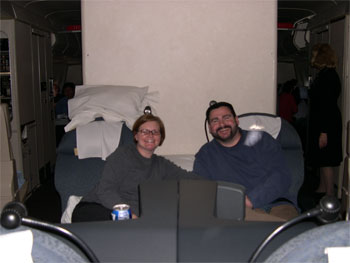 We have these amazing seats that completely recline to make a bed! Yes, I did just say a BED! We have new pillows and blankets, a personal grooming kit, new socks, eye mask, ear plugs, personal TVs, and our own crew. There are only 16 seats, called suites, in First Class and only 10 are occupied. We have printed menus and eat with real china - not the plastic TV dinners usually served on airplanes. Before the plane even leaves the gate we have already had fresh orange juice and warm assorted nuts. For lunch we began with hot seafood brochette with hoi sin chili sauce, fresh mozzarella cheese and tomato, and Parma ham and asparagus roulade. Then we were served a fresh salad with hot garlic crusted shrimp and your choice of Asian ginger or creamy Gorgonzola dressing. Then for the main course you had your choice of: Filet Mignon with bearnaise sauce (my choice), Chicken Parmesan with smoked mozzarella cheese and marinara sauce, Peking-style pork chop with sweet and tangy sauce, and Sauteed halibut with light black bean sauce (Joel's choice). Then to round out the meal we were given fresh fruit and an ice cream sundae.
Since the first meal, we have crossed the International Date Line and are currently over the Sea of Okhotsk, along the coast of Siberia. Our flight path has taken north along the coast of Canada, Alaska, over the Bering Strait and over Siberia. We have now made the Southward turn toward Beijing. We have slept a good bit of the flight - I could not begin to give you an idea of how long; time is really relative right now. The GPS map on our personal TV shows us our location, local time, time to arrival, travel speed and distance. I just know that in the beginning I could not watch because it seemed like the little plane had a long way to go and it was not making any progress. I only know that when I went to sleep we were along Alaska and when I woke up we were leaving Siberia and heading over the Sea of Okhotsk.
After a long, but enjoyable flight, we are safely in Beijing. The temperature here is around -10C, very cold and snow on the ground. Our hotel is nice and everything seems to be well taken care of. We will venture down stairs for something to eat and exchange some money shortly. Then hopefully we will be able to get a good nights rest. Tomorrow we will be meeting the group in the lobby at 8:30 to begin our day of touring Ð and it will be COLD!
Read more of the Travel Log.
View the Video Clips.