Closing Out The Year Of The Rooster
January 30, 2006 (Cheraw)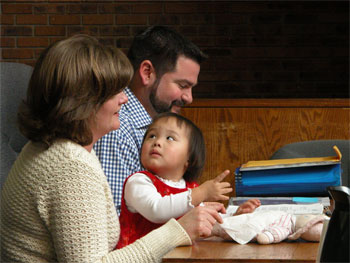 What a great year. A vintage year indeed was the year of the rooster. As we celebrate Chinese New Year this week with a trip to the buffet and chocolate fortune cookies we are reflecting back at all the has happened up till now. For those of you that find some interest, here are the highlights.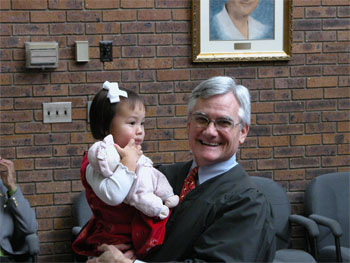 Kirby has settled in better than we could have hoped, a real answer to prayer. She has filled in to be a healthy and happy little girl that really loves all things "girl". Coming into a house full of boy stuff it has been amazing to watch her have nothing to do with her brothers' toys. She loves to dress up, have mommy do her hair, play with her baby dolls and boss her brothers around, she has definitely found her place. As you can imagine it has been a joy having girl stuff floating around the house and seeing her toys treated so well; I didnŐt know toys could last longer than a week and not get broken. Anyway, Kirby is out of the crib, talking more and more, enjoying gymnastics, and just doing all things that a happy little girl does. Bradford, our youngest boy, as you may remember from our last posting had a really hard time adjusting to the fact that Kirby was here to stay. He kept trying to convince himself that Kirby was ok by repeating over and over "I like Kirby", the only problems was he would be knocking her down or flushing her toys down the toilet while he was saying it. It was a little touch and go there for while as we watched him struggle with the adjustment; however, now they are a unit, like twins; they do everything together and do not like to be separated. This has been a lot of fun to watch as they have grown very close. Again, Thank You God!
Well, after an eventful summer, ball season at the park, her birthday (her first one with us), Christmas and the rest of the holiday season, two post placement visits, and a trip to family court for the final adoption, I guess we can say that the adoption process is over and comes to a close with the year of the rooster. We will look forward to all the things yet to come, both good times and bad. We will look forward to sharing our experiences with those that are interested and may be feeling the call to adopt. We will look forward to maintaining the wonderful friendships with those of you that have reached out to us and been so supportive. We will look forward to seeing Kirby grow alongside her brothers into the woman God wants her to be, and more than anything we will look forward to sharing it with you, as you have made this experience such a joy. So we will keep you posted on our progress and will try to update you with news and pictures from time to time, hopefully more frequently than once a year.
For now thanks again for everything and may God's gracious hand be with you as we welcome in The Year Of The Dog.
I hope we have carried on this spirit, congratulations on your being a real part of it,
In Christ,
The Dysons
Read more of the Travel Log.
View the Video Clips.