What a Difference a Day Makes.
9:22 AM February 24, 2005 (Cheraw)
10:22 PM February 24, 2005 (Beijing)
February 24, 2005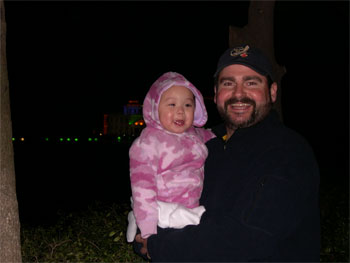 Wow, I tell you we have a different child today. I mean she was adjusting well and really a joy but today Kirby has shown her personality. She has laughed, talked, and even sang today more than she has since we got her on Monday. She shows no more fear of Daddy, thank goodness, and is so curious and happy; today has just been the best day so far and we are so thankful for all the joy we have had. We praise God for his calming spirit, his gift to us in that we are able to love, and for the ability to feel such incredible emotions like those that we have experienced today; wow, God is so Good.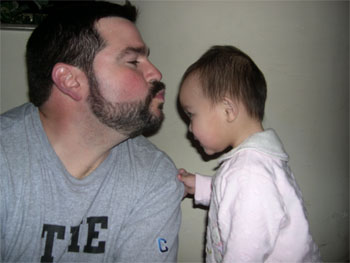 Today has just been a great day, did I already say that? We ate breakfast and went off for a little more sightseeing. We went back to August 1st Park, the place where the Communism Memorial is overseen by the great big Wal-Mart, for some pictures, etc. We wandered the vast park for a little while and really enjoyed the morning just kind of strolling and looking. After we had seen the entire park, that celebrates communism, Temple said she was ready to celebrate capitalism; so off to shop we went. We made our way along the streets surrounding the park and even found ourselves back at the same porcelain shop we went to before. We didn't buy much but just looking around provided for an eventful morning. A few pieces of very inexpensive porcelain and hand carved bamboo from the province and we made our way back to the shopping center to get Kirby a few more pieces of clothes; since we really didn't bring much for her to wear as we didn't know what size clothes she would be in. Not spending much we got all we needed and were back to the hotel; it is quite mind boggling how inexpensive things are here. It is easy to see how lopsided the economic systems are when compared to our own; the economy here is completely propped up by the government, i.e., supply and demand do not apply and thus no price fluctuations; the result, a very strange economy that is great for tourist but hard on the economies abroad.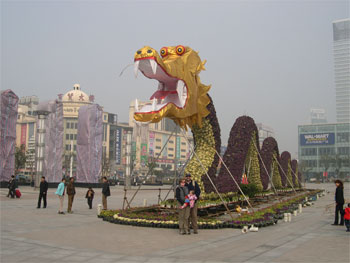 Once again we ate Chinese food for breakfast, lunch, and dinner and it was good as usual; although we skipped the pigeon and pig intestines, but they really didn't look all that bad. Mommy and baby took a nap this afternoon and Dad went for a stroll through the streets of Nanchang, wow now that was an experience. Later in the afternoon we prepared our paperwork for the forthcoming trip to the U.S. Consulate. We will go back to the notary office at 10 am on Friday to pick up all of our official documents and we will catch an afternoon flight to Guangzhou in the Guangdong Province, formally known to westerners as Canton, China. We must go here last to finalize the U.S. portion of the adoption process, medical examinations, etc.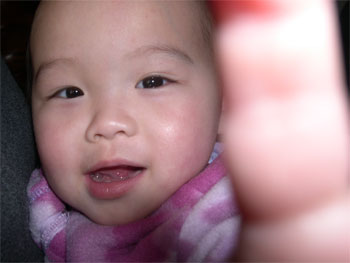 We are off to bed tonight under a full moon and clear skies. Thank you again for all your encouragement and joy that you have expressed through your emails, we look forward to reading them each day. We are so glad that you have enjoyed these postings and hope that we are being informative enough without being boring. We really like the new look of the site as Tony had to change some things around to ensure that as many people could see the site as possible; thanks again to Tony for keeping everything up to date.
With much love,
Temple, Joel, and Kirby
Read more of the Travel Log.
View the Video Clips.