The Square, City, and Palace ...
6:38 AM February 19, 2005 (Cheraw)
7:38 PM February 19, 2005 (Beijing)
Saturday, February 19, 2005
We had a good nights rest last night. We both woke around 3:30AM, but managed to dose a little more until we finally got up at 5:30. We had breakfast in the hotel - it was good but interesting. Egg rolls, waffles, sausage, bacon, eggs boiled in tea, you get the idea. At 8:30 it was time to begin the tours, the temp was around 20F when we began with winds of 10-20 mph. So, let me just say it was COLD!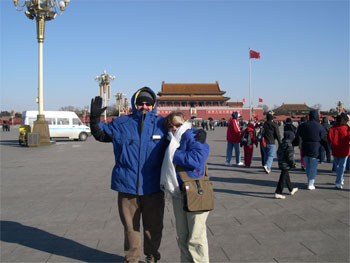 Our first tour stop was Tiananmen Square, overseen by Chairman Mao this was a good place to be reminded who was in charge here. The People's Republic of China is becoming a modern mecca and it appears to even be modeling the good capitalist economy of the US, but make no mistake, it is a police state and the "Party" is most certainly in the driver's seat. The square was full of soldiers and red Chinese flags, this is the official pilgrimage spot for party loyalist, and there were many taking it all in.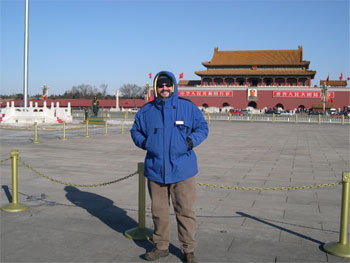 We then entered the Forbidden City; this very large palatial complex was built in the 1400's and housed the emperors all the way up until the last one in 1924. Truly fascinating was the detail and grandeur of the architecture and scale. Many gates, halls, walls, etc. really too much too even try to describe in this short message; of course it was still very cold. Starbucks and a stop at the pearl factory led us to lunch; which was very good with pleasant company, warm atmosphere and hot food.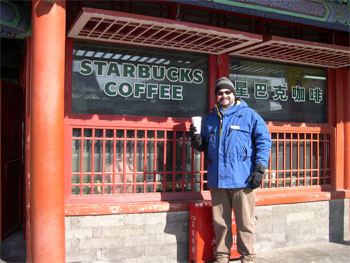 Next we went to the Summer Palace; a respite place for the Emperor to get away from the summer heat of the city (wouldn't know about that today), this spot was equally fascinating and would be breathtaking I'm sure in the spring. Full of gardens and courtyards and accentuated by a very large lake and a man made mountain with the Temple of Heaven adorning the top. We knew however that we wouldn't be here long when we saw there were as many people walking on the lake as there were on the ground, as you can imagine the wind off the frozen lake was a tad overwhelming. We walked about half way down the grand corridor (about 400 yards) and everyone was ready to make their way back to the bus. Of course our main priority on this trip is not to site see, and we thoroughly enjoyed what we did and saw today, but if you are planning a trip to Beijing to see the history don't come in the winter; the ancient Chinese were very in tune with nature and what we saw today is very open and sprawling with many gardens and courtyards and the like, but the wind howls through them and for us good southern folk it was a bit brisk.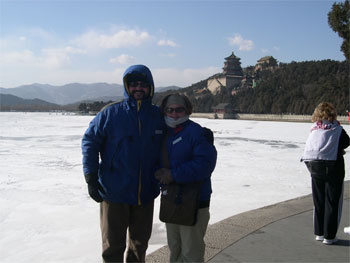 We enjoyed a very traditional (Chinese) dinner and enjoyed it very much; now we are back to the hotel, have shed our jackets and the other three or four layers of outerwear and ready to crash. We are told tomorrow will be a little less packed but still very cold. As we lay down for a good night's sleep wish you all wonderful Saturday.
Read more of the Travel Log.
View the Video Clips.