Adoption, and more ...
7:16 AM February 22, 2005 (Cheraw)
8:16 PM February 22, 2005 (Beijing)
Tuesday, February 22, 2005
We have had Kirby in our lives for a little more than 24 hours now, and today she is officially ours (as far as the Chinese Government is concerned).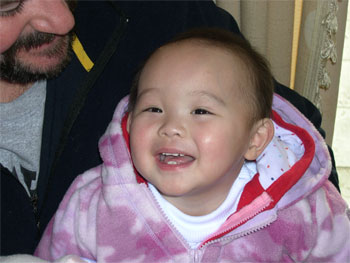 Last night was smooth. She went right to sleep, after a semi-traumatic bath, on her own around 9:30. She slept well most of the night, with only one wake up around 3:00. She did go right back to sleep after a little comfort and slept until we had to wake her at 7:30. And I mean we really did have to wake her! We were up at 6:00 getting ready and she kept sleeping - it is not like these rooms in China are huge. We got her up and dressed then headed down to breakfast. She is a good eater, but we are not having much success with the bottle - today we have gotten more fluid in her and hope tomorrow will be better.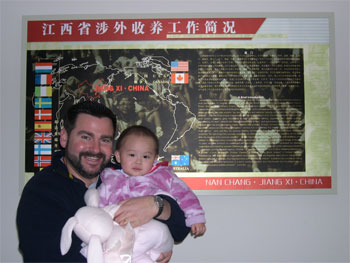 After breakfast it was back to the Chinese Center for Adoption Affairs (CCAA) and the same room we had just received our daughter in just 16 hours earlier. The room was full of parents waiting for the official adoption of their Chinese daughters. It took about 2 hours to have our groups 10 babies' adoptions processed. When our time came, we went back to the office of an adoption official and were asked several questions about us, our family, why we want to adopt and to promise we will never abandon or abuse our daughter. Then we were on to the Notary Office for more questions and more approval. We passed and were given our official adoption decree and know that now she is ours forever.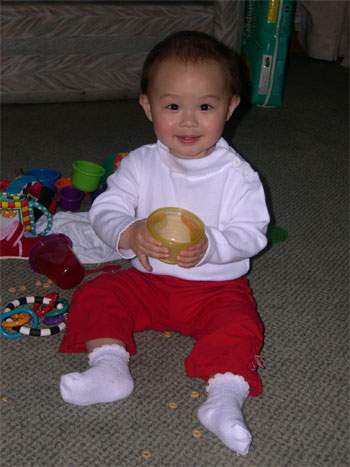 Then the fun began! Our first trip to Chinese Wal-Mart! Let me say that we will never complain how busy our local Wal-Marts are again! To get into Wal-Mart you have to go upstairs via escalator. Then we got our buggy - I could not even drive the thing! It had 4 wheel steering and felt like you were driving on ice! The store was packed! We are told 4.1 million people live in this city and I think 3 million were in Wal-Mart. There were other adoptive groups there and it was a mad dash to the baby section to get supplies before they were gone. We managed to get a stroller and diapers. But shoes were not to be found. You could find soft booties, but regular shoes were not in her size. It must have taken 45 minutes to find what we need and to make one pass around the upper floor that in contrast is the size of the clothing department in a Super Wal-Mart state side. Then we had to find the produce and food mart. It was located one floor down. There we were blessed with a kind lady who showed me the type of formula we needed. We were able to find some noodles for Kirby, water for us, and apple juice. Then we had to find the produce section. We went through the meat department and saw fresh fish, shrimp, eel, etc in tanks, frozen something's, and then we found the dried meats. We saw chickens, geese, ducks, bat and cat! All hung out to dry ready to eat. They looked like a treat you would give the dog. I would have gotten a picture, but the Wal-Mart had a posting that no photography is allowed! After I found some good old USA treats (Snicker Bars, Dove Bars, M&M's, Kit Kat) we were free from Wal-Mart at a cost of ¥678.00 - about $82.00 US dollars.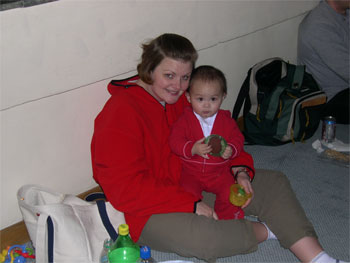 Lunch was to be KFC. Joel ordered ours to go, since time was up and we were headed back to the hotel. While he was handling lunch Kirby and I set off to find shoes. There were some nice little shops under Wal-Mart. I went to one store looking for shoes and a kind lady pointed me to another shop. Then she decided to come along and help me. We hit the jack-pot! A children's shoe shop and got Kirby and cute pair of red shoes for a whopping ¥58.00, about $7. But we were both happy - she could now put her little feet to walking and that is all she wants to do.
Now we are back at the hotel for a lazy day. We have all had little naps and will meet our group in a conference room for a pizza party at 6:00. Pizza Hut delivers even in Nanchang!
Thank you all for your emails and prayers! We are proof that prayer works! Kirby is well and her adjustment is amazing. She will go to either of us freely, but will still have a few moments of fear when Joel moves a way she does not quite expect. We have learned she was in the orphanage her whole life, so that means no male contact except the Director. But we are amazed by the hour how wonderful she is. She is happy and quiet for now - we are sure that will change when she gets home to her three big brothers!
That will have to do for now. But we are almost one full week into our journey and are looking forward to getting home! Amazingly we are not sick of Chinese food yet, but I am sure it is coming!
Love to all!
Joel, Temple, and Kirby
Read more of the Travel Log.
View the Video Clips.